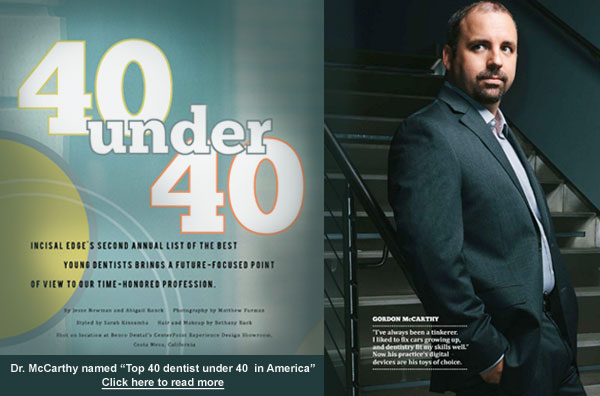 McCarthy Dentistry Patient Information
McCarthy Dentistry is a Marietta based family dentist practice that treats patients of all ages. We are committed to delivering the highest quality dental care and do so using advanced dental equipment. We are a cosmetic dentist that offers services like checkups, teeth cleaning, crowns, veneers and more.
---
We also perform emergency dentist services that include bonding, root canals, crowns, and bridges. As a local dentist, we create lifelong relationships with our patients and their families and work to ensure that they receive treatments in a comfortable and relaxed environment. Dr. McCarthy and our staff invite you to schedule an appointment by calling 740-546-5178 and experience why our patients think McCarthy Dentistry is the best dentist in Marietta.
---
Meet The Doctors
---
Dr. Gordon McCarthy, DDS FICOI
Gordon J. McCarthy, D.D.S. received his Bachelor of Science degree from Ohio University in 1999 and attended the Ohio State College of Dentistry where he received his degree of Doctorate of Dental Surgery in 2004. A native of Washington County, Ohio, Dr. McCarthy always planned to return to the Mid-Ohio Valley to open his dental practice. While in dental school he took a special interest in oral surgery, cosmetic dentistry and dental implants because he knew that his native area was especially underserved in these areas.

Since starting his professional career Dr. McCarthy has completed extensive training and numerous hours of continuing education in cosmetic dentistry, implant placement surgery and restoration, as well as advanced bone and soft tissue grafting. He has continued to refine his skills and advance his knowledge to offer patients more treatment options. Through this commitment, Dr. McCarthy has established a practice where most dental procedures can be completed in the office without the inconvenience and delay of a referral. He uses the latest and most predicable restorative, implant and grafting procedures known in dentistry today.

Dr. McCarthy is an advocate of technology. He has invested in the latest, most cutting-edge, computer assisted tools and process available in dentistry today to cater to the needs and comfort of his patients. Dr. McCarthy is nationally known as one of the early adopters of cone beam volume tomography to create 3D X-rays, a technology quickly becoming the standard of care for oral surgery and implant placement. His presentations on cone beam imaging to area dentists and physicians has improved healthcare throughout the mid-Ohio valley.

Dr. McCarthy routinely utilizes this technology to ensure the most accurate and ideal diagnosis and treatment plan for his patients. Because he believes cone beam imaging is so beneficial to other medical professionals he also accepts implant and surgical cases from surrounding dental and medical professionals to use in their patient care.

Dr. McCarthy is a fellowship member of the International Congress of Oral Implantologists, a member of the American Dental Association, member of the Ohio Dental Association, and a member of the Muskingum Valley Dental Association.

He lives in Marietta, Ohio with his wife and 3 children, He enjoys spending time with his family and "wrenching" on classic cars.
Tanner Seago, DDS
Tanner Seago, D.D.S., is a central Ohio native who earned his Bachelor of Science in biology from Georgetown University, and his Doctor of Dental Medicine Degree from the Erie-based LECOM School of Dental Medicine. He has been recognized by the American Student Dental Association and Student Government for his outstanding commitment to service.

Raised with Midwestern values in a family of five siblings, Tanner is delighted to return to the Buckeye state, settle into a new home at McCarthy Dentistry in Marietta, and contribute to a community much like the one that shaped him. Inspired by the understanding that the health of our youth leads to the health of the community, Tanner has dedicated himself to events providing care to pediatric patients, including Give Kids a Smile, Mission of Mercy, and YMCA Youth Tooth event.

Tanner's own experience with athletics and his love of sports affords him the opportunity for an even deeper connection with patients and community. He served as the Dental lead for a Pennsylvania Sports Injury Prevention Grant, providing concussion protocol education and custom fit mouth guards to the area's local student athletes.

With a high priority on continuing education, Tanner is working towards Fellowship status in the Academy of General Dentistry. He is committed to helping his patients achieve optimal health through a comprehensive approach to care, and consistently motivated by a personal mission to effect positive change. Driven by a passion for dentistry instilled in him at a young age by his grandfather, he is committed to mastering the latest advances in dental technology and sharing them for the benefit of his patients.

Tanner is a member of the Academy for Sports Dentistry, Christian Medical & Dental Association, Academy of General Dentistry, and American Dental Association.

When he is not in the office, he enjoys coaching youth and high school lacrosse, snowboarding, fishing, attending local high school, college and professional athletic events, and spending time with his family.
Anne Starkey, DDS
Anne Starkey, D.D.S. graduated with a Bachelor of Science in biology from The Ohio State University and a Doctorate of Dental Surgery from the OSU College of Dentistry.

During her undergraduate studies, Dr. Starkey spent a great deal of time volunteering with science classes in inner city schools. She worked directly with underserved children to inspire them to study science and help cultivate future scholars, scientists and doctors. This work continued through her doctoral studies and she graduated with the Volunteer Service Award.

Dr. Starkey grew up in Newport, Ohio. She always knew she wanted to return to Washington County to bring her knowledge and experience to her hometown.

She offers patients specialized care in two of the fastest growing treatments in esthetic dentistry. She is certified in dermal fillers and Botox®, which can help patients with TMJ, facial pain, orthodontics or cosmetic purposes.

Dr. Starkey is a member of American Dental Association, the Ohio Dental Association, the West Virginia Dental Association, the Blennerhassett Dental Society and the Muskingum Valley Dental Society.

She is happy being near family and spending time on her boat on the Ohio River. Dr. Starkey enjoys snow skiing, gardening and cooking.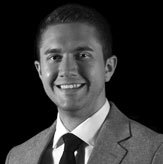 Mark Carter, DDS
Mark Carter, D.D.S., comes to McCarthy Dentistry from Morgantown, West Virginia, where he earned a Bachelor of Science in biology from West Virginia University and a Doctor of Dental Surgery degree from the WVU School of Dentistry.

Growing up in a rural community in West Virginia's eastern panhandle, Dr. Carter saw many otherwise fit and health-conscious people harm themselves by overlooking or actively ignoring their oral health. It is because of that experience, and others like it, that Dr. Carter has committed himself to community outreach events, including health fairs, kindergarten oral health screenings, and grade-school oral health presentations. Dr. Carter believes that the reinforcement of oral health as a fundamental piece of overall well-being will cultivate a healthy community.

Driven by a passion for learning, along with a proclivity towards new technology, Dr. Carter is pursuing an Academy of General Dentistry Fellowship Award through the completion of quality continuing education courses. By mastering the latest techniques in dental treatment, he aims to offer as many predictable, evidence-based treatments as possible. Ultimately, Dr. Carter strives to formulate treatment plans which address patient concerns without the need for referral.

He is a member of the Academy of General Dentistry, American Dental Association, Ohio Dental Association, and the Muskingum Valley Dental Association.

Outside of the dental office, Dr. Carter may be found in the wilderness, hiking, camping, and fishing. He also enjoys tailgating and cheering for his West Virginia Mountaineers.